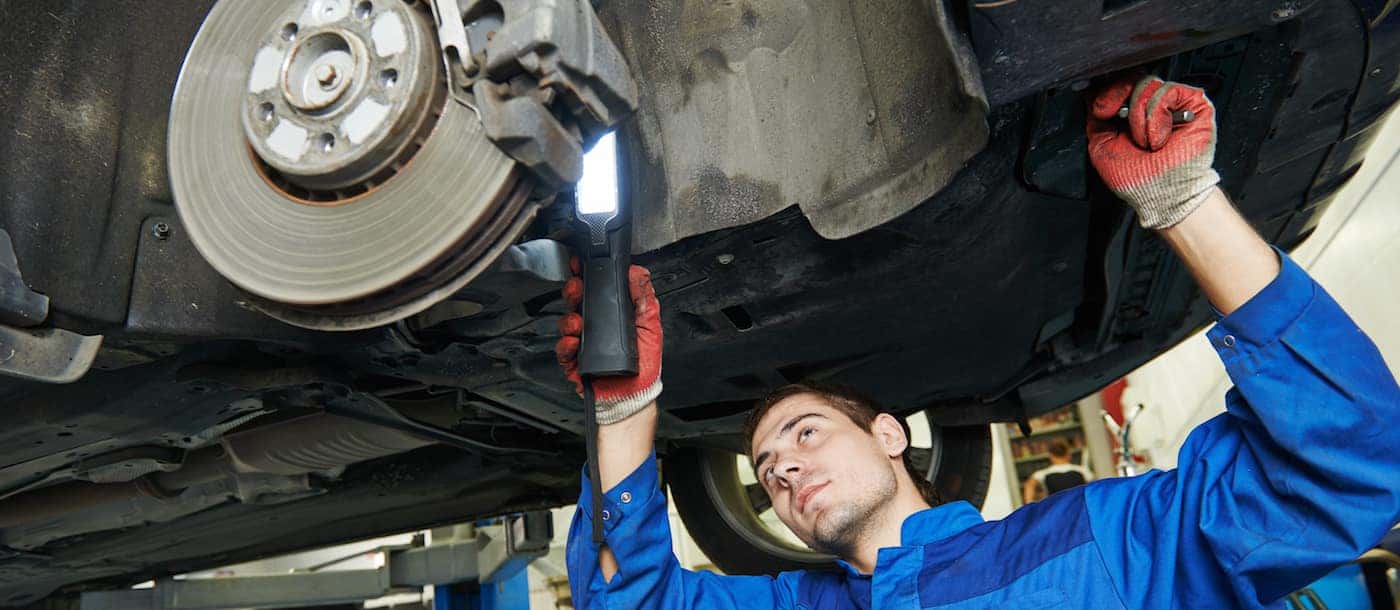 Does your car tremble when braking? If you feel your vehicle shaking when you brake, there could be one or many causes. So, if you're wondering "Why is my car shaking?" or you're noticing that your steering wheel shakes when braking, here are a few potential causes:
Brake rotors causing the vibration/shaking
Brake pads causing the shaking
Old tires causing the vibration
Steering issues causing the shaking/vibration
Does Your Steering Wheel Shake When You Brake?
Whether you feel shaking in your steering wheel or trembling in your brake pedal during your New Town drives, either way, you'll want to know what's going on. That's where our Nissan service experts here at Ryan Nissan come in. They can help repair your vehicle's brakes to their full stopping power. Schedule service online today, or read more about the three most common causes for why a car shakes when braking. We can also help you with other service issues,  like why your car is overheating.
Your Brake Rotors Are Warped
The most common reason to the question "why does my car shake when I brake?" has to do with damaged or warped brake rotors. Brake rotors work with brake pads to help stop your wheels from spinning and as a result, stop your vehicle. As rotors get older, they get thinner over time, reducing their stopping power and also making them prone to damage. The high heat levels generated during normal braking conditions can warp the rotors over time, causing the brake pads to slip and create a shaking or trembling sensation when you press down on the brake pedal.
When should you replace brake rotors? They usually require replacement by at least the first 70,000 miles, but they could be done earlier depending on your driving style and prevailing climate conditions in Williston.
You Need New Tires
Another common cause for why your car trembles when braking has nothing to do with your brakes themselves, but rather, your tires. Sometimes, if your tires are out of alignment or just a bit old, your suspension has to work extra hard to keep your vehicle balanced and taut. If this happens, you'll usually feel your steering wheel shaking. Unevenly work or misaligned tires can, thus, cause a car to shake when braking. Sometimes, tires will only require alignment or another service like tire rotation. Other times, you may need new tires. Tire alignment is usually checked during a routine tire rotation, which should be performed every 5,000 to 7,500 miles. Check your owner's manual or contact us to learn more about tire service tips.
Your Car Has Steering or Suspension Problems
If there is an issue with your vehicle's steering system or suspension system, you'll most likely experience shaking when braking as well as regular driving around Bismarck.
When you have your vehicle in for an oil change, wheel balancing, or a tire rotation, it's smart to ask for a general vehicle inspection also to catch any issues with your steering or suspension.
How to Fix a Car that Trembles When Braking
Because there are so multiple reasons your car shakes when braking, it's important to have it looked over by a professional mechanic, like our expert Nissan service technicians here at Ryan Nissan, to find the root of the issue. Scheduling service for a vehicle that shakes when braking in for service is always the best way to rectify the problem.
Contact Us with Questions About Car Brakes
Now that you know more potential causes for why your car is shaking when you brake, we can answer other questions if you have them! We invite you to contact our service team online or call us directly at (701) 852-3915 anytime if you'd like to know more about car brakes or other service-related items! We can also help answer your other service questions, like "how do I reset a check engine light", or "how often do I need to change my oil?". We can even teach you how to check brake fluid. Before you visit our Belcourt-area service center, be sure to take a look at our service specials so you don't miss out on great savings.