These Fuel-Efficient Used Cars Will Save You Big Money on Ownership Costs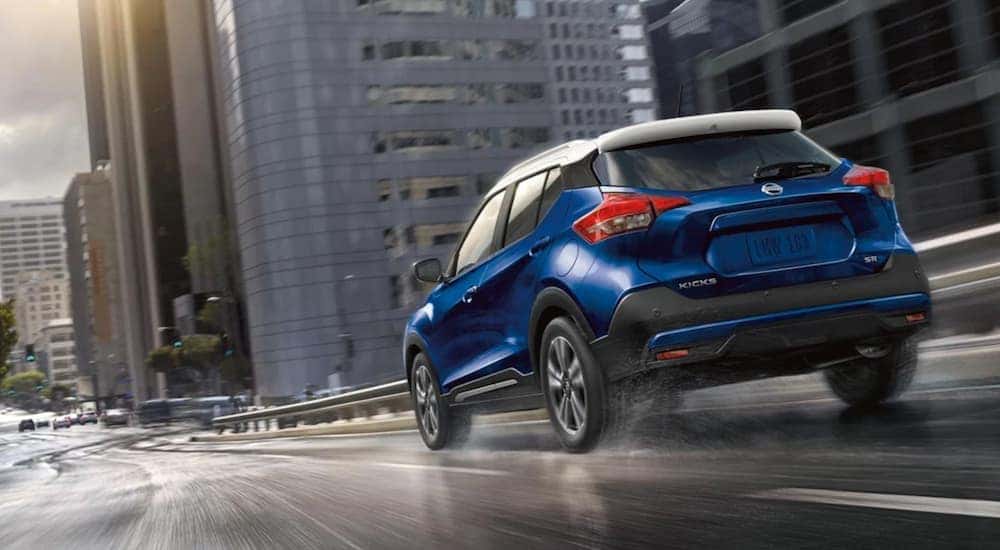 Ever wondered why owning a car is so darned expensive? Part of it has to do with the cost of gas, which seems to keep rising year after year. Sure, you can opt for an electric vehicle, but many buyers aren't ready to make the switch from gas power. If that sounds like you, consider checking out used cars for sale that offer class-leading fuel economy ratings.
Even with the influx of SUVs and crossovers, there are still a handful of sedans offering class-leading fuel efficiency without compromising on style and fun-to-drive ride handling. It's possible to save big on gas and still drive a high-performance vehicle that turns heads. Whether you care about styling, driving characteristics, or something else, we have the inside track on a few hidden gems that offer the best fuel economy.
Do you like sedans, or is your heart set on a crossover or SUV? You might think you have to say goodbye to the utility of a crossover to achieve the best possible fuel savings, but many of today's crossovers are almost as fuel-efficient as their sedan and hatchback counterparts. You just have to know where to look. Luckily, we've done the digging for you. Sift through our 10 best models for optimal fuel efficiency, and get ready to drive right by your local gas station. All ratings for the vehicles we reviewed are for the 2018 model year.
#10: The Mazda3
What's not to love about Mazda's smallest model, the Mazda3? This adorable compact comes in either a sedan or a hatchback body style. Newer models offer tons of upscale cabin features, as well as in-vehicle infotainment technology and smartphone integration. The Mazda3 offers a little extra burst of style and elegance while still offering great fuel economy. The EPA estimates that a 2018 Mazda3 with a 2.0-liter 4-cylinder engine will deliver a combined 31 MPG of fuel economy.
Our Verdict: Good fuel economy in a stylish package.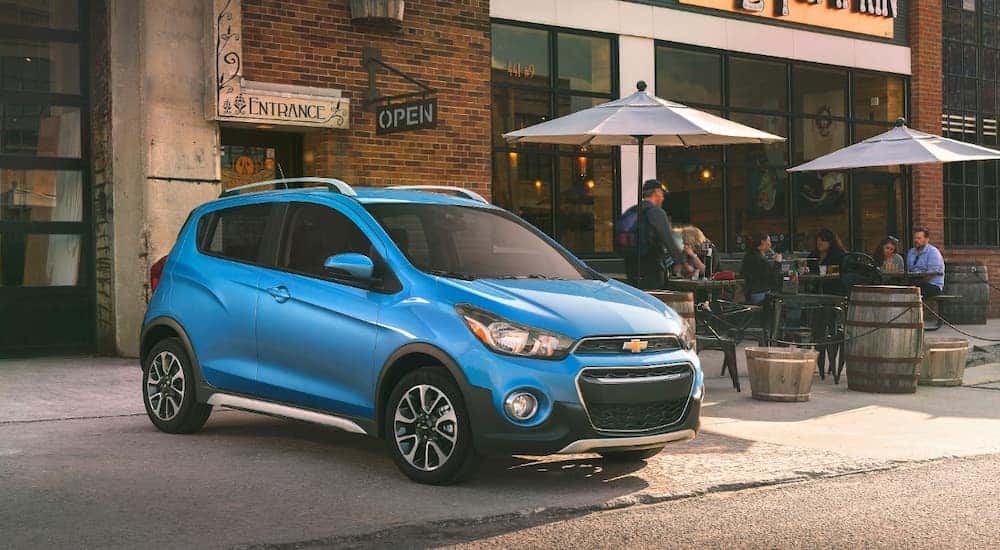 #9: The Chevy Spark
When it comes to tiny cars, the Chevy Spark is one of the tiniest. Its 93.9-inch wheelbase is compact, but the Spark still has a decently sized cargo area. Sadly, buying this itty bitty hatchback won't get you the most fuel economy, as it has a combined 33 MPG rating. It tops many in the city, with 30 MPG, but on the highway, it falls in the average, sitting at 38 MPG.
Our Verdict: This is a tiny car with average fuel economy, but it has an incredibly low price tag, especially on the used market.
#8: The Nissan Kicks
What the Nissan Kicks lacks in size and stature, it gains in quirky style and crossover utility. You won't find bulk with the Kicks: instead, this little ute offers tons of headroom, impressive cargo space, and fun exterior colors that give it tons of style and individuality. This little crossover achieves impressive fuel economy ratings of 31 MPG in the city and 36 MPG on the highway, for a combined rating of 33 MPG overall. That's thanks to the efficient 1.6-liter four-cylinder engine.
Our Verdict: Big on quirky style and fuel-sipping driving manners.
#7: The Hyundai Elantra
Buyers looking for a more traditional sedan should consider the Hyundai Elantra. A favorite of rental car companies, the Elantra embodies fuel efficiency, with a combined rating of 35 MPG, which comes from its 32 MPG in the city and impressive 40 MPG on the highway rating when equipped with the base 1.4-liter four-cylinder turbo engine. The EPA estimates that buyers will save $3,000 in fuel costs over 5 years of ownership when compared with other vehicles.
Our Verdict: Sedate, unassuming, and extremely fuel efficient.
#6: The Toyota Prius
The granddaddy of them all, Toyota's Prius has achieved legendary status for its fuel-sipping characteristics. Consider that this little hybrid averages 52 MPG of combined fuel economy, which means you'll save over $6,000 on fuel costs over five years of ownership. Yes, this car comes with a stigma that Toyota hasn't been able to shake, but you'll find comfort in your low gas costs and laugh all the way to the bank.
Our Verdict: Some may not like the style, but one of the most fuel-efficient cars on the market.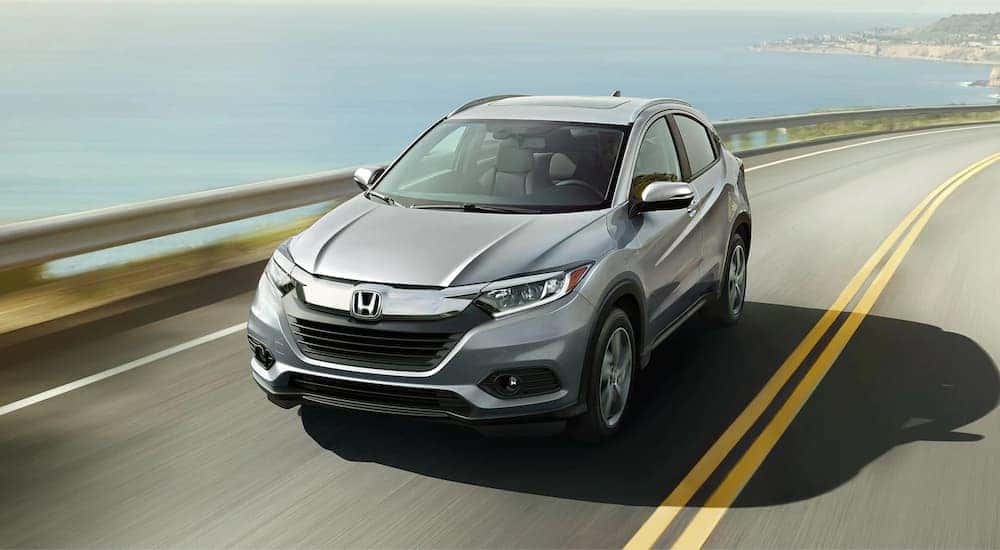 #5: The Honda HR-V
Honda fans know that they can count on the automaker's legendary reliability, but that also comes with fairly vanilla styling. The HR-V offers a respectable 28 MPG in the city and 34 MPG on the highway of fuel economy, with a combined rating of 31 MPG, but you'll have to settle for a pretty simple design. Still, there's no denying that this vehicle is competitive in the fuel efficiency department, making it worth a look.
Our Verdict: Fuel efficient, but so-so styling makes it unattractive to some.
#4: The Mitsubishi Mirage
Buyers forget about the Mitsubishi lineup sometimes, which is a shame since the Mirage is one of the most fuel-efficient vehicles on the road. It's a gas-only vehicle––no hybrid option here––that comes in at 39 MPG combined, or 37 MPG in the city and 43 MPG on the highway. The Mirage comes in both sedan and hatchback body styles, but some might find the lack of creature comforts not to their liking.
Our Verdict: A hidden gem in the fuel savings arena, but not too exciting style-wise.
#3: The Kia Rio
Few could argue that the Kia brand is growing in popularity, but many fuel-conscious buyers may not know about the little Kia Rio. This subcompact sedan offers 32 MPG of combined fuel economy. Broken down, that translates to 28 MPG in the city and 37 MPG on the highway. The Rio is ideal for commuters since its highway manners are positively fuel-sipping. Still, the Rio is a very small subcompact car, so drivers that worry about visibility might want to think twice.
Our Verdict: Small, practical, and reliable, but it might be too small for some drivers.
#2: The Ford Fiesta
As most automakers abandon the sedan and hatchback for full SUV and crossover lineups, Ford held out, offering cars like the Fiesta (now discontinued) for small vehicle buyers. The Fiesta offers 31 MPG combined fuel efficiency. Contributing to its high marks is the 37 MPG on the highway rating, making the Fiesta another great choice for long-distance commuters and weekend adventure seekers.
Our Verdict: This model is going, going, and soon-to-be gone, but a great choice for budget shoppers.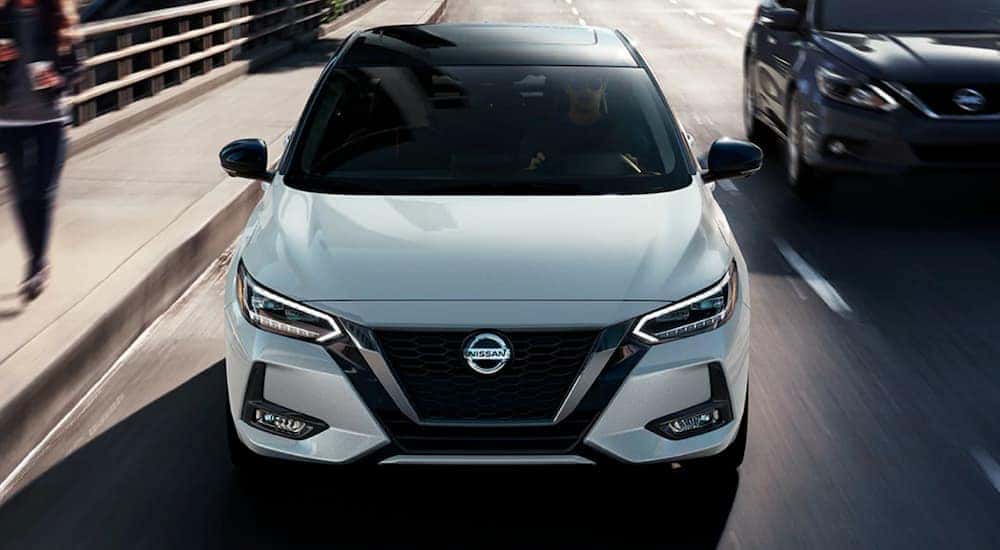 #1: The Nissan Sentra
Nissan continues to invest in its sedan lineup, offering some of the industry's most stylish and popular models. The Sentra is one of Nissan's best-selling models, earning it the number one spot on our list. Buying a Sentra means you're ticking all the boxes: safety, style, and affordability. As for fuel economy, it achieves a combined 29 MPG, with 27 MPG in the city and 33 MPG on the highway. Though not the most fuel-efficient car on our list, it's the most dynamic.
Our Verdict: The Sentra is a crowd favorite, offering legendary style, ride handling, and fuel economy.
Why Fuel Economy Ratings Matter
As you sift through your used car options, consider that average fuel economy will make a big difference in your ownership costs. Some vehicles, like the Toyota Prius, are specifically designed for fuel economy. Still, if you want style, ride handling, performance, and other vehicle characteristics that are important to many buyers, you might want to sacrifice a little fuel economy and choose a more well-rounded vehicle like the Nissan Sentra.
Know that whatever vehicle you choose, most newer cars are designed to optimize fuel economy. If your wallet demands a fuel-efficient vehicle, but your heart desires an SUV, you'll easily find one that ticks both boxes.