The Best Nissan Has to Offer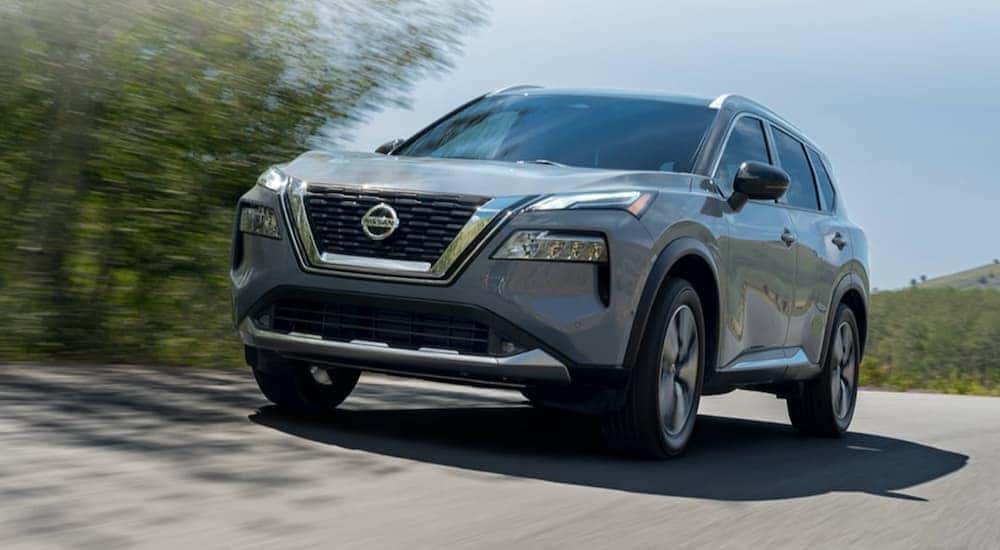 Stop by any Nissan dealer and take a look at their inventory, and you'll see there's more than one reason why Nissan is so popular among drivers. Stylish looks, top-of-the-line safety features, the latest tech, long-lasting reliability, and the flexibility to fit into any lifestyle are just a few. Nissan has remained one of the popular go-to cars since they first came to the United States in the late 1950s.
Never one to rest on past accomplishments, Nissan continues to press forward in an effort to reduce carbon emissions. With green practices and the availability of their all-electric vehicle, the LEAF, plus the introduction of their soon-to-be-released crossover, the Ariya, Nissan is becoming more popular than ever with drivers looking for affordable, flexible, and sustainable vehicles. Whether you've owned a Nissan in the past or just thinking about one, Nissan's wide range of vehicles can make it tough to choose just one. At Ryan Nissan, we take great pride in Nissan's wide range of models, perfect for any family size or lifestyle. Whatever type of vehicle you're looking for, there's a Nissan for you and we'd be happy to show you everything Nissan has to offer here at our Nissan dealership in Minot, ND. So before you visit us, let's take a look at a few of our most popular Nissan vehicles in the SUV, sedan, and truck categories.
The Nissan Rogue
The functional and flexible Nissan Rogue often tops the list of the most popular SUVs, which is saying something when you look at the sheer variety of SUVs and crossovers on the market today. The powerful 2022 Nissan Rogue was designed to fit into your lifestyle while enhancing it. The excellent fuel economy of 30 MPG (miles per gallon) in the city and 37 MPG on the highway takes drivers further on less. Making the Rogue a popular vehicle for commuters or people looking to get the most out of their daily ride. And when that feeling for an impromptu road trip hits, you know the Rogue will be up for it.
The versatility of the Rogue makes it a great vehicle for both city and country. The 1.5L VC-Turbo engine was designed to be both powerful and efficient. The impressive 201 hp and 225 lb-ft of torque give the Rogue plenty of kick when you need it the most. This includes when road conditions are less than optimal. The optional all-wheel drive can give drivers the confidence they need when roads turn rough.
The Rogue makes it easy to stay in control with just the turn of a dial. Choose from any of the five driving modes, such as Off-Road mode, to help you tackle those dirt trails to Snow Mode for when things get slick. Other modes include Sport, Auto, and Eco mode, so matter where you find yourself, the Rogue is ready to help.
With room for up to 5 passengers, there's more than enough space for everyone and your cargo. The Rogue stays flexible with optional Divide-N-Hide that provides up to six different ways to store and organize whatever you need to haul. The hands-free motion-activated liftgate provides access to the back cargo area when your hands are full. Drivers will be amazed to experience the space and comfort the Rogue provides despite having such a compact footprint. The SUV was designed to use every inch of space without sacrificing the comfort of the driver and their passengers.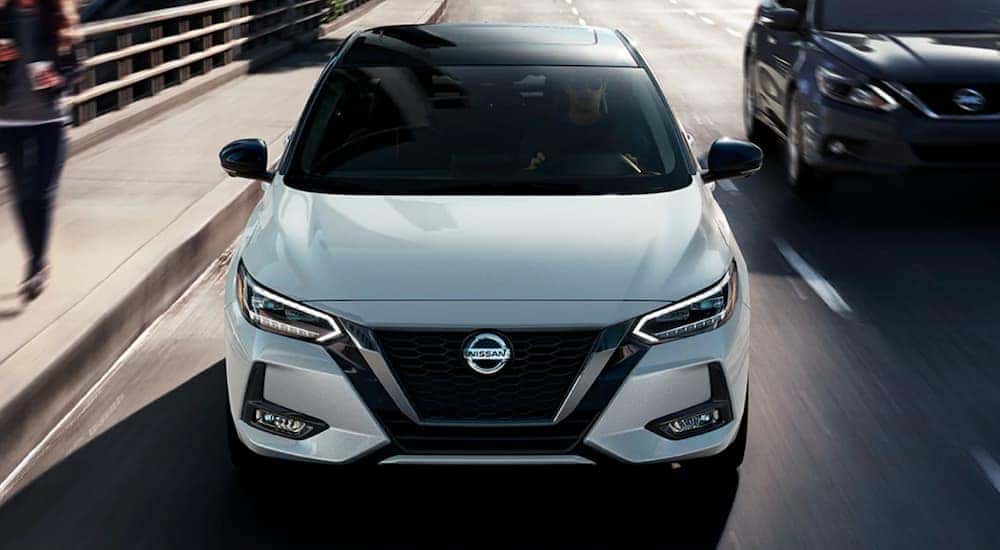 The Nissan Sentra
Despite the Sentra being one of Nissan's oldest models, the compact and dependable 4-door sedan feels surprisingly fresh and modern, which might be one reason why drivers continue to return to the car, making it one of Nissan's most popular models since it was introduced way back in 1982.
The Sentra gives drivers the reliability and practicality they are looking for while taking design and technology in a bold new direction that keeps the model feeling new and exciting in a market full of sedans. So why go with the 2022 Nissan Sentra? The excellent EPA of 29 MPG in the city and 39 MPG on the highway makes the Sentra perfect for short or long trips. The spacious cabin makes it simple to relax with options for Dual Zone Automatic Temperature Control, heated front seats, and all the latest tech you could want. Nissan made sure to keep the passenger's comfort in mind when it designed the Sentra. Along with ample headroom, the backseat offers passengers of any size a generous amount of legroom, so no one feels cramped.
When it comes to cargo, the Sentra is ready to keep up with your daily demands. The 60/40 split rear seats make it easy to access the 14.3 cu.ft of trunk space. A low, wide trunk makes easy work of loading and unloading groceries, work materials, or luggage for that weekend away, while the Sentra's Smart Storage makes room for all of your essentials, from electronic devices to beverages.
The Nissan Sentra comes standard with the Nissan Safety Shield, which might be why the 2022 Sentra was awarded a 5-star safety rating from the NHTSA (National Highway Traffic Safety Administration) and was named one of the IIHS's (Insurance Institute for Highway Safety) top safety picks for 2022.
The Nissan Safety Shield gives drivers confidence when behind the wheel, plus an extra set of eyes where it counts. The safety suite includes Automatic Emergency Braking with Pedestrian Detection, Rear Automatic Braking with Rear Cross Traffic Alert, and Blind Spot Alert. All are designed to keep an eye out and respond when the situation calls for it. Also included is Lane Departure Warning, which can sense when a driver veers from their lane into another's. To help take some of the stress out of night driving, High Beam Assist can sense dim conditions or oncoming traffic and adjust accordingly so you can keep both hands on the wheel and focus on the road ahead of you.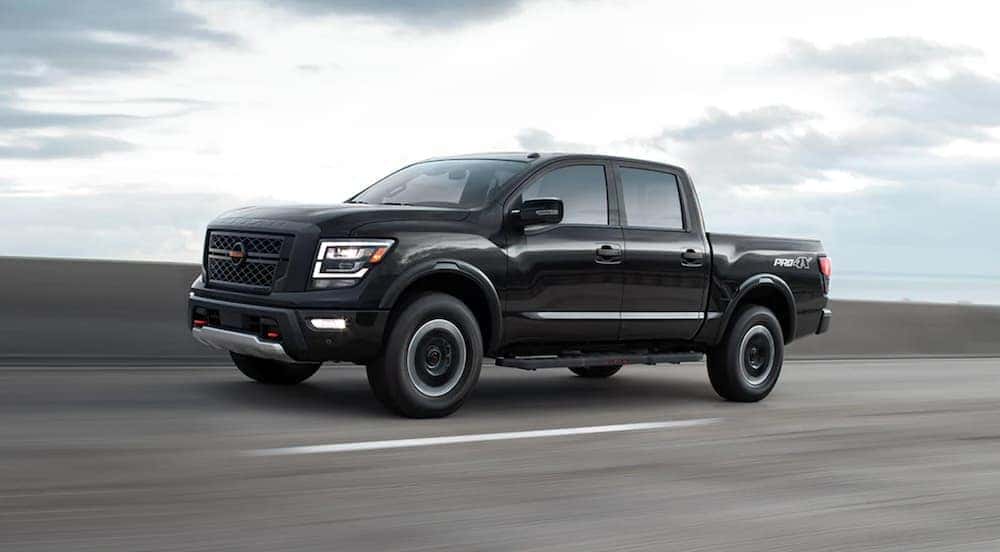 The Nissan Titan
Looking for a giant among trucks, then look no further than the Nissan Titan. The full-size pick-up truck is there for you through work and play. The aptly named Nissan Endurance V8 engine kicks out 400 hp, which places the Titan best-in-class when it comes to horsepower. Plus, with 413 lb-ft of torque and rugged 4×4 capabilities, the Titan can make light work of your toughest jobs.
The standard 9-speed transmission ensures a smooth ride every time, whether you're on or off the road. The Titan's Shift-On-The-Fly 4-Wheel Drive gives drivers the option to shift to 4LO when the trail gets tough, then easily shift back down to 4Hi as you head back to civilization. A high ground clearance with Active Brake Limited Slip means the Titian is capable of taking you over even the most uneven ground to reach your destination.
The Nissan Titan was designed to help take some of the stress out of towing and hauling. With the Utili-Track feature with heavy cleats along each channel, it's quick and simple to tie down and keep your cargo in place. For extra peace of mind, drivers can opt for the Titan's Remote Trailer Check, so if you find you're traveling alone, it's simple to keep all your light connections in check, making towing safer for you and everyone you share the road with.
Come See Why Nissans Are So Popular Among Drivers at Ryan Nissan
When we look at some of Nissan's best-selling cars, trucks, and SUVs, it's easy to see why so many drivers choose to go with the Nissan brand. Each model is as versatile as you need it to be. Whether you need a sedan for commuting, an SUV to take you camping, or a truck for your heaviest jobs, you know Nissan has you covered. Nissan's top-of-the-line design touches on everything from fuel-efficiently to modern styling, making any model a great choice for drivers looking for value, dependability, and power with a little added luxury thrown in to make their drive fun every time they get behind the wheel. Contact us or come down to Ryan Nissan and we'll be happy to show you any of these popular models that are perfect for any type of driver.