Six Spectacular Nissan SUVs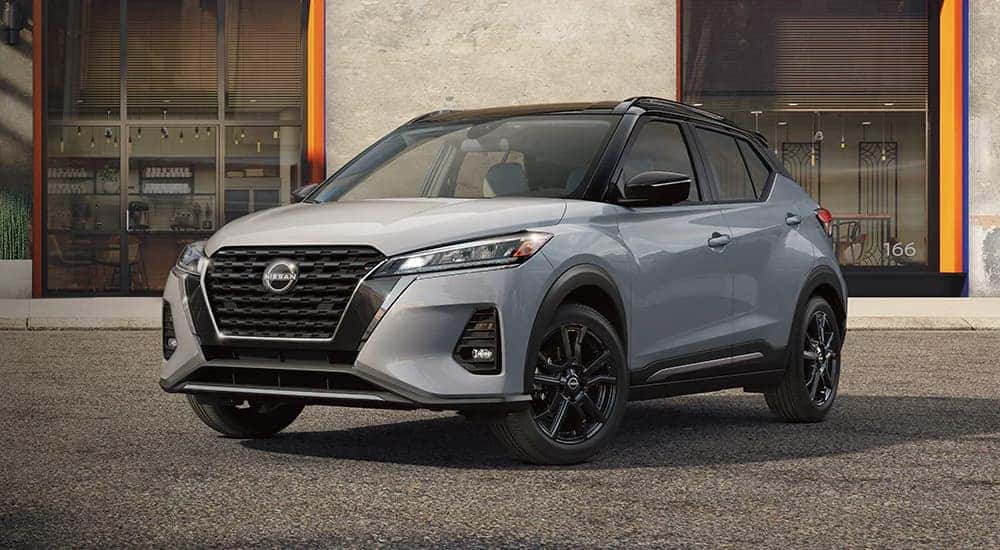 Automakers around the world have increased the manufacturing of SUVs as an increasing number of drivers learn of the benefits of these amazing vehicles. One of the leaders in this regard is Nissan, with one of the most diverse offerings of SUV models. When drivers go looking for a "Nissan dealer near me," they are going to find one with the right size of SUV for their lifestyle, chock full of amazing features designed to meet their needs and exceed their expectations. This is because Nissan has used its Intelligent Mobility platform to include the latest in safety, driver assistance, performance, and infotainment technology into each of the six different Nissan SUV models. The Nissan Safety Shield 360 suite of driver assistance features comes standard on all Nissan SUVs. These features will work with you to make sure you drive safer and reduce the chances and impact of a collision.
At Ryan Nissan, we offer the full lineup of Nissan cars, trucks, and SUVs, including the six phenomenal models featured here. Whether you are looking to buy one new, used, or Certified Pre-Owned, we offer you the finest selection of Nissan vehicles at prices that are affordable to drivers all over North Dakota.
1. 2022 Nissan Kicks
Whether you get your kicks on Route 66 or closer to home in Minot, North Dakota, the subcompact SUV Nissan Kicks shows you how this automaker can pack a great deal of quality and features into a small package. The Kicks runs on a 1.6-liter I-4 gas engine paired with a continuously variable transmission ("CVT") that can produce up to 122 horsepower and 114 lb-ft of torque. This cute little SUV can seat five passengers comfortably and has an amazing amount of trunk space, 25.3 cubic feet, that can be easily expanded to 32.3 cubic feet by folding down the rear seat. The front-wheel drive Kicks also gets spectacular fuel economy, an amazing 33 miles per gallon combined. The 2022 Nissan Kicks is ideal for a student or commuter who is looking to get a great ride that won't bust the budget.
2. 2022 Nissan Rogue Sport
Sometimes you need a little more space, and this is where the subcompact SUV Rogue Sport fits the bill. Slightly larger than the Kicks and styled after the bigger Nissan Rogue, the Rogue Sport also seats five passengers while offering larger trunk space, up to 61.1 cubic feet, with the rear seat folded down.
The Rogue Sport is powered by a 2.0-liter I-4 gas engine with a CVT transmission, capable of 141 horsepower and 147 lb-ft of torque. Nissan offers this SUV with either front-wheel drive or all-wheel drive. Either way, you are going to get solid fuel economy, up to 28 miles per gallon combined on front-wheel drive Rogue Sports and 27 miles per gallon on all-wheel drive model. The availability of all-wheel drive makes this a great choice for North Dakotans who want a little more traction to deal with the extremes of our local weather.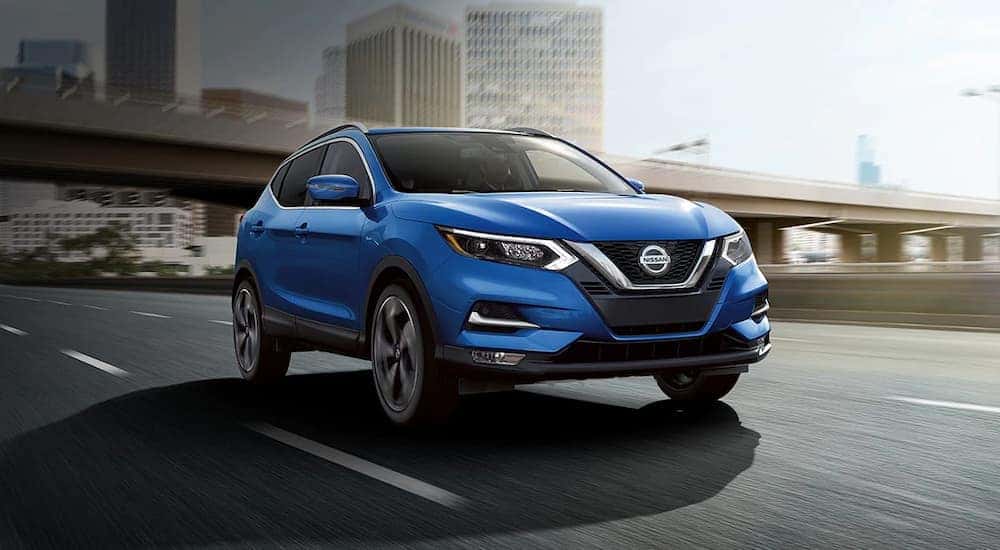 3. 2022 Nissan Rogue
The crossover is a model of SUV that is larger than subcompacts like the Kicks and Rogue Sport but not as big as midsize SUVs. As a result, most drivers find them a great choice of model. One of the leading crossover models is the Nissan Rogue. This Nissan crossover has plenty of space for up to five passengers and a trunk that seems absolutely endless. You would swear that the Nissan Rogue is larger on the inside than the outside! There is 36.5 cubic feet of trunk space on the Rogue, which can be increased to 74.1 cubic feet by folding down the rear seat.
For the 2022 model, Nissan has added a brand new 1.5-liter VC-Turbo I-3 gas engine. You read that right; this is a 3-cylinder engine. It comes paired with a CVT transmission and can generate up to 201 horsepower and 225 lb-ft of torque. As a result, the 2022 Nissan Rogue gets exceptional performance while also delivering amazing fuel economy. The front-wheel drive Rogue will give you up to 33 miles per gallon combined while choosing an all-wheel drive Rogue won't hurt you at the gas pump, as it will easily deliver 31 miles per gallon combined. As a result, the Rogue is an excellent SUV for any driver who wants performance and value in a great package.
4. 2022 Nissan Murano
For drivers who put a premium on luxury styling, there are few models that can compare to the 2022 Nissan Murano. This midsize SUV provides a roomy interior full of creature comforts and style, including a NissanConnect infotainment system with an 8-inch color touchscreen. This features Apple CarPlay and Android Auto compatibility, so you can easily access your favorite apps and stream your most loved music.
The exterior of the Murano is also incredibly stylish and aerodynamic. The distinct looks of the 2022 Murano truly stand out in a field of boxy, cookie-cutter midsize SUVs. This allows it to provide excellent performance from its 3.5-liter V6 engine. Combined with a CVT transmission, this engine delivers an impressive 260 horsepower and 240 lb-ft of torque. It also provides an estimated 23 miles per gallon combined, whether you choose to equip your Murano with front-wheel or all-wheel drive. If you want to get there in style, then there is nothing like a 2022 Nissan Murano.
5. 2022 Nissan Pathfinder
If you are looking for a three-row SUV that is perfect for taking your kids around town, then you should blaze a trail to get a 2022 Nissan Pathfinder. This midsize SUV has plenty of room for up to eight passengers with rugged looks that will be at home no matter where you roam. With 80.5 cubic feet of cargo space behind the first row of seats, the Pathfinder can also do double duty as a great cargo carrier.
Nissan came out with an all-new Pathfinder generation in 2021, with the current model representing the second year. Just like the smaller Murano, the Pathfinder funs on a 3.5-liter V6 gas engine paired with a CVT transmission. However, Nissan has boosted the output on this engine to deliver up to 284 horsepower and 259 lb-ft of torque. This is so powerful the Pathfinder can tow up to 6,000 pounds, making it a great choice if you want to take the kids camping. Also, this Nissan SUV won't hurt you at the pump, as it gets an estimated 23 miles per gallon combined.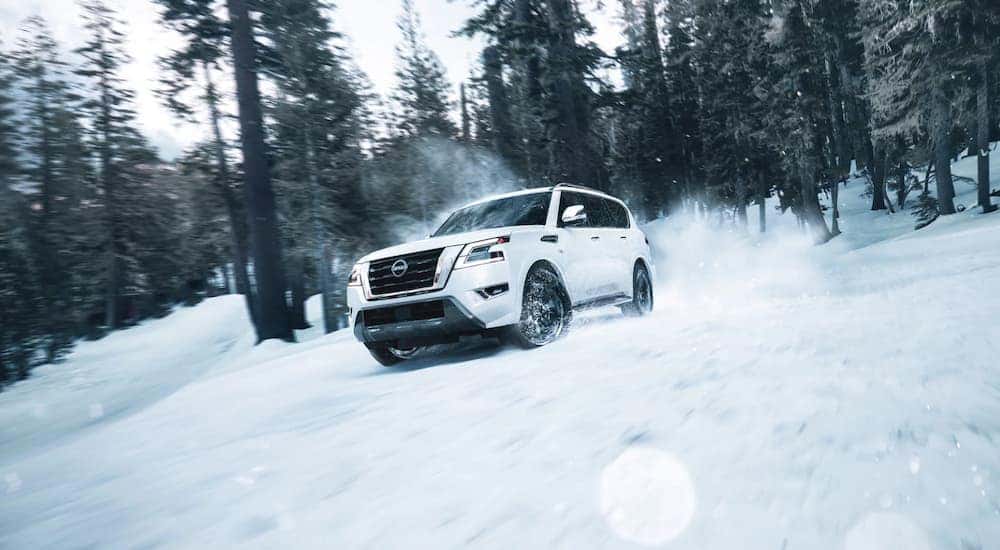 6. 2022 Nissan Armada
One of the leaders in the full-size SUV category is the Nissan Armada. Just like the Pathfinder, the Armada can seat up to eight passengers. However, the Armada has an incredible 92.6 cubic feet of cargo space, which you can free up simply by folding down the rear two rows of seats. This is plenty of space for all of your belongings and will come in handy if you are moving or need to bring back supplies from a home improvement store.
However, the 2022 Nissan Armada is more than just a full-size SUV. This is a luxurious and powerful model featuring the NissanConnect infotainment system on a 12.3-inch color touchscreen. This will integrate all of the key vehicle information and entertainment features in an easy-to-use platform.
The 2022 Armada runs on a 5.6-liter Endurance V8 gas engine combined with a 7-speed automatic transmission. This is actually the only SUV in the Nissan lineup that doesn't feature a CVT transmission. The engine on the Armada is capable of producing 400 horsepower and 413 lb-ft of torque, allowing it to tow up to 8,500 pounds. This is the kind of performance you would expect from a pickup truck, not a luxury SUV. In addition, the Armada can carry up to 1,650 pounds in its trunk, so that is truly usable space. This combination of utility and luxury is unmatched in the class of full-size, three-row SUVs.
Nissan Knows SUVs
With these six different SUV models, Nissan has positioned it at the forefront of the SUV market. As you can see, each of these SUV models has a different size and purpose, making it easy for drivers to choose one that best fits their lifestyle. In addition, these SUVs have been designed to maximize space and increase fuel economy while making sure that safety and performance aren't compromised. So don't compromise, and make your next SUV a Nissan.