Sick of Sky High Gas Prices? Save Your Sanity and Buy a Fuel-Efficient Nissan
After your search for a Nissan dealer in Minot ends with us, you'll quickly realize that insane gas prices don't have to become your problem. Our Nissan lineup includes several commuter-friendly cars and crossovers that let you drive right by the gas station. These days, a tank of gas costs more than a week's worth of groceries. Save your hard-earned money and consider parking a stylish and affordable Nissan in your driveway.
Size matters when it comes to fuel economy, which is why your search should focus on small subcompact sedans and crossovers like the Nissan Versa and the popular Nissan Kicks. Both offer fuel economy ratings in the 30 mpg (miles per gallon) range yet still feature trims with infotainment technology and driver-assist systems commuters will love. Within the Nissan lineup, it's possible to combine practicality and enjoyment.
What type of vehicle best suits you? Many buyers love the crossover/SUV body style; however, sedans remain a popular choice for commuters. Look for spaciousness in the cabin and an exterior design that makes you smile every time you get behind the wheel. No matter what your personal preference, the Nissan lineup contains the perfect vehicle for your tastes and one that will get you from Point A to Point B efficiently.
Our Sedan Recommendation: The Nissan Versa
Why did the 2022 Nissan Versa receive high praise from the editors at Car and Driver? The respected review site considers the Versa ideal for commuters, calling it a "relaxing chariot for daily commutes," and highlights the Versa's perfect 5-Star Overall Safety Rating from the NHTSA. You can keep your budget under $20,000 and still enjoy one of the safest cars on the road. It's a win-win for commuters.
Along with the Versa's fuel-sipping 32 mpg in the city and 40 mpg on the highway fuel economy ratings, buyers will enjoy adorable styling and a peppy 122-horsepower four-cylinder engine. The Versa offers a generous 15 cubic feet of trunk space, and if you carpool, your back seat passengers can stretch out comfortably. The Versa's rear seat dimensions include 31 inches of legroom and 36.3 inches of headroom—plenty of space for your adult coworkers.
Choose from three trims–the base S, the SV, and the top-of-the-line SR, and a variety of add-ons for true buyer customization. All trims include a 7-inch touchscreen, and the SV and SR models add NissanConnect, Apple CarPlay, and Android Auto connectivity for seamless smartphone integration and access to subscription-based connected services. You can access your favorite Spotify playlist or podcast right from the touchscreen with an easy plug-and-play interface.
Nissan includes standard Safety Shield 360 on all Versa trims. It's a suite of driver-assist safety technologies that use onboard cameras, sensors, and radars to constantly monitor the area around your car and alert you to potential hazards. Among the standard features is High Beam Assist, which automates switching between low and high beam settings. If you commute at night, it's a lifesaver.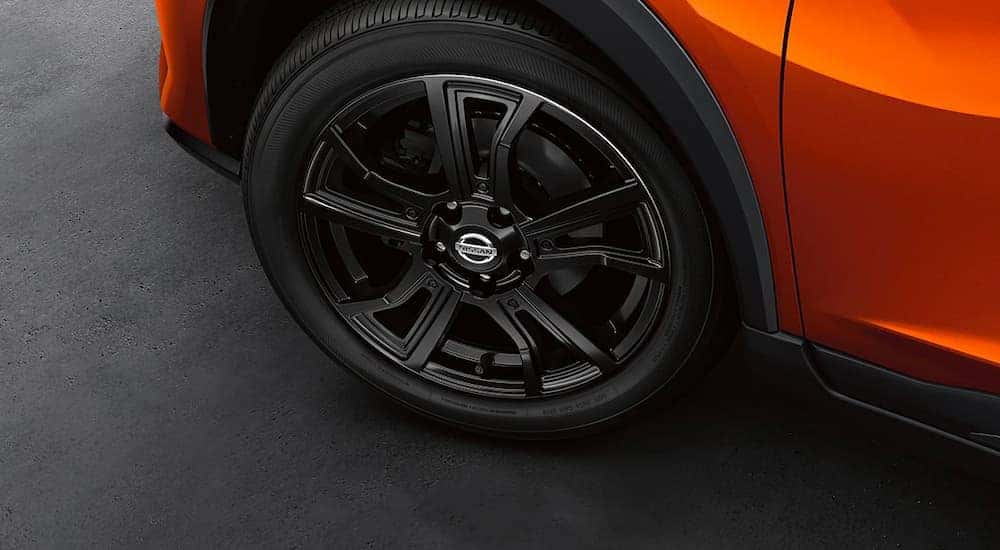 Our Crossover Recommendation: The Nissan Kicks
If you love the SUV body style but you're worried about sacrificing fuel economy, Nissan has some good news—the 2022 Nissan Kicks offers stellar fuel economy ratings, with 31 mpg in the city and 36 mpg on the highway, all wrapped up in a cute subcompact crossover package. It starts at under $20,000 and offers tons of interior space for all your passengers.
Like the Versa, the 2022 Kicks come in three trims: the S, SV, and SR. All trims come with Nissan Safety Shield 360 driver-assist technology, as well. If your budget is tight, you'll be glad to know the base Kicks S comes with tons of standard comfort and convenience features. You'll get a 7-inch touchscreen with smartphone connectivity and a 6-speaker audio system. Also standard is a push-button start.
Moving up to the SV gets you automatic climate control and a remote start feature with a little bonus—intelligent climate control. When you start your car on a cold winter morning, you can preset the cabin temperature, so it's nice and warm when you slide behind the wheel for your morning commute. What's better than that?
Moving up to the top-of-the-line Kicks, the SR adds a classy leather-wrapped steering wheel and special Prima-Tex seating accents with orange stitching. You can also add the SR Premium Package to outfit your Kicks with extra goodies like an 8-speaker Bose audio system that includes speakers in the driver's headrest, heated front seats, and a Wi-Fi Hotspot.
All-Electric Recommendation: The Nissan Leaf
What if you never had to visit a gas station ever again, or at least not to pump gas? This could be you if you opt for the all-electric 2022 Nissan LEAF. The LEAF is one of the original EVs—a standard-setter that achieves an epic 114 MPGe (miles per gallon-equivalent) fuel economy rating and provides a 226-mile driving range, enough for even long-range commuters.
The LEAF affords buyers access to an EV lifestyle without paying a premium, so if you've ever thought about making the switch from traditional combustion engine technology, Nissan makes it easy and affordable to do so with the LEAF.
Buying a LEAF means choosing from five trims. The S and SV offer a 40 kWh battery, and the S Plus, the SV Plus, and the SL Plus include a larger 62 kWh battery. If you need the longer driving range, you'll want to choose one of the "Plus" trims. Also available is connected navigation, which includes real-time traffic updates, so you'll never get stuck in commuter traffic without warning.
The top-of-the-line LEAF SL Plus includes leather seating with heated front seats and a heated, leather-wrapped steering wheel. A 7-inch data display is your hub for tracking driving range and other vehicle data, and the 8-inch infotainment touchscreen is where you'll connect to Apple CarPlay and Android Auto. Nissan includes a 7-speaker Bose Energy Efficient Series audio system, three USB ports, and a UBS-C port for fast device charging.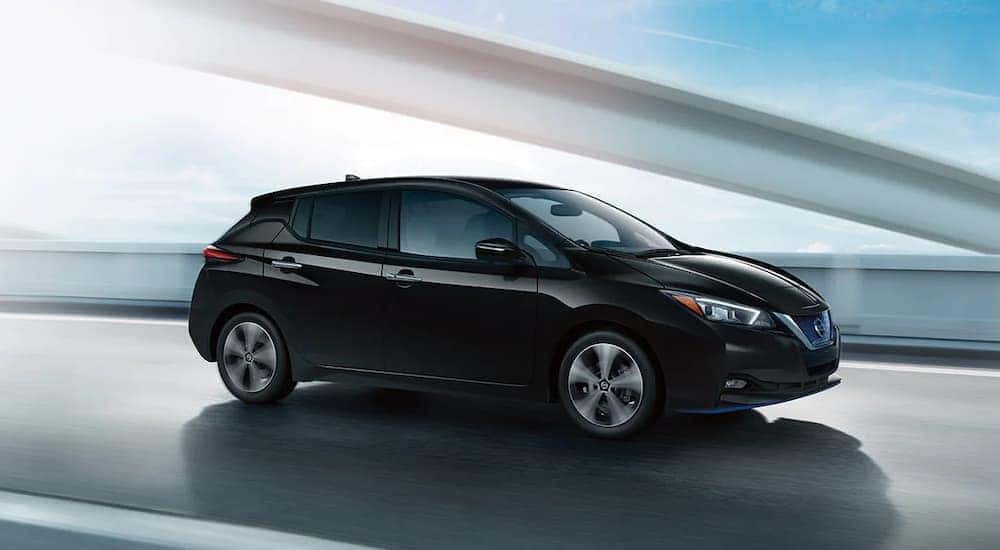 Commuter Friendly Driving Is Easy With Nissan
As you prepare to find the perfect commuter car for your busy lifestyle, consider the efficient Nissan lineup of cars and crossovers, each designed for fuel economy and driving enjoyment. Choosing a practical car shouldn't mean giving up creature comforts, and no one understands this better than the engineers at Nissan. From leather seats to connected technology, these cars are full of great features designed for driving enjoyment.
Once you get behind the wheel of a 2022 Nissan Versa, Nissan Kicks, or the all-electric LEAF, your commute will become more relaxing and affordable. Gas prices are climbing, but your ownership costs don't have to. Instead, set your sights on a 2022 Nissan. Between their low MSRPs and high fuel economy ratings, it's a formula that works perfectly for commuters.
What are you waiting for? Ditch the gas guzzler and streamline your ride. You'll be tapping your fingers on the steering wheel as you listen to your favorite playlist, as you send the gas station attendant a friendly wave as you pass right on by. The practical, playful Nissan lineup has you covered. Take a test drive today and start saving big.